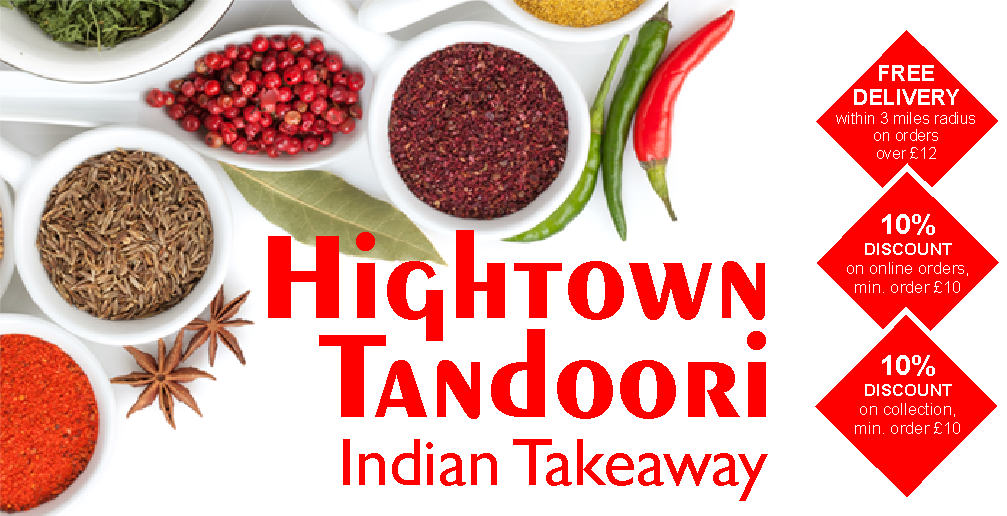 We offer FREE HOME DELIVERY on orders over £12 and within a 3 miles radius and up to 15% OFF via our website and app (min order apply). These savings are not available on Just Eat.
The Hightown Tandoori is an authentic Indian Takeaway and we are proud to be serving the people of Wrexham, so why not try our wide range of new and traditional dishes!
Here at the Hightown Tandoori, we offer a rich range of dishes for you to choose from to create the perfect Indian meal.
We take pride in our products and services; each individual order is freshly made and we always try our best to prepare it to the highest quality.
You can stay at home and just order your food online for delivery or come and collect a scrumptious meal, either way, you will get 15%* off, when you order using our own website and app.
Some dishes may contain nuts. If you believe that you have an allergy that could harm your health, please ask a member of staff for assistance before placing your order.
Ewch i food.gov.uk/ratings i ganfod sgor hylendid bwyd ein busnes neu gofynnwch inni beth yw ein sgor hylendid bwyd wrth archebu. Go to food.gov.uk/ratings to find out the food hygiene rating of our business or as us for our food hygiene rating when you order.